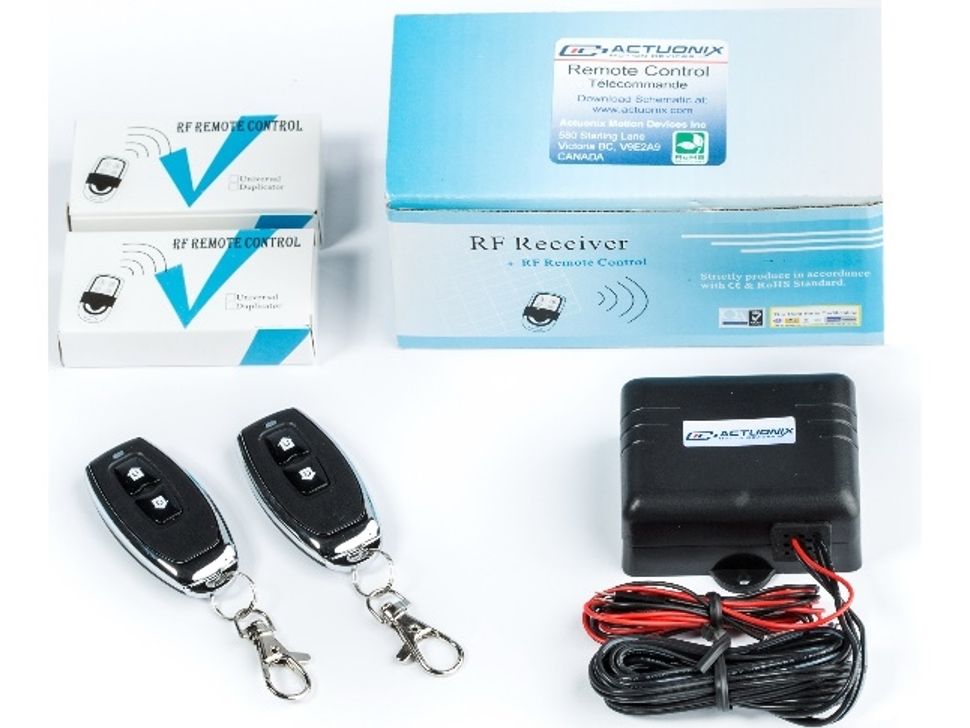 This product is not available in the selected currency.
In Stock
Backordered
Out of Stock
Overview
Actuonix's 12V DC wireless RF remote control kit is perfect for remotely controlling linear actuators. This kit is plug and play with our -S series actuators (non stepper) including the PQ12-S (with cable adapter) and is the quickest way to turn your actuator into a remote control actuator. It comes with two-2 button remote controls (up, down) and remote receiver. This wireless remote control kit is very small in size and easy to install and operate. Just connect the receiver to power, plug your "S" series (non-stepper) actuator into the receiver cable and push the remote buttons to operate. This product is perfect for home, hobby or automotive use where wireless DC control is required. Remotes have approx 100M range. Package includes receiver + 2 remotes. These linear actuator controller kits are FCC, CE and RoHS compliant.
Note: This remote control will only work with our 12vdc "S" series limit switched actuators
What's in the Box?
Whats included in the box?
Remote Receiver Unit
2 x Button Remote
Downloads
Specifications
Actuator specification
Manufacturer Part Number
Remote_Control
Input Voltage
12VDC (8V min. 14V max.)
Switched Current
6 Amps. Max
Standby Current
50mA
Range
100 meters
Compatible Actuators
L12, L16, P16, T16 –S 12 Volt
ABOUT Actuonix

Actuonix Motion Devices build micro linear actuators and linear servos. Based in Victoria, BC, Canada, they provide innovative and economical micro motion solutions for the growing needs of several markets including robotics, aerospace, automotive, medical and radio control. Actuonix is a leading manufacturer and innovator in the micro motion marketplace. They offer the most affordable, high quality micro linear actuators.
Know more about Actuonix
Opps
Sorry, it looks like some products are not available in selected quantity.