This product is not available in the selected currency.
In Stock
Backordered
Out of Stock
Overview
The Compute Module 4 from Raspberry Pi is a Raspberry Pi 4 board in its compact form with some extra features like a an optional on board flash storage. It's make and size makes it a perfect choice for a deeply embedded applications widely used in the industrial automation, consumer electronics and much more.
Raspberry Pi Compute Module 4 is powered by a Broadcom BCM2711 quad-core Cortex-A72 (ARM v8) 64-bit SoC @ 1.5GHz and support dual-display at resolutions up to 4K, hardware video decode at up to 4Kp60, up to 8GB of RAM, Gigabit Ethernet, USB 2.0, dual camera interfaces and PCIe Gen 2 x1 interface. It also has optional onboard eMMC of 8GB, 16GB or 32GB.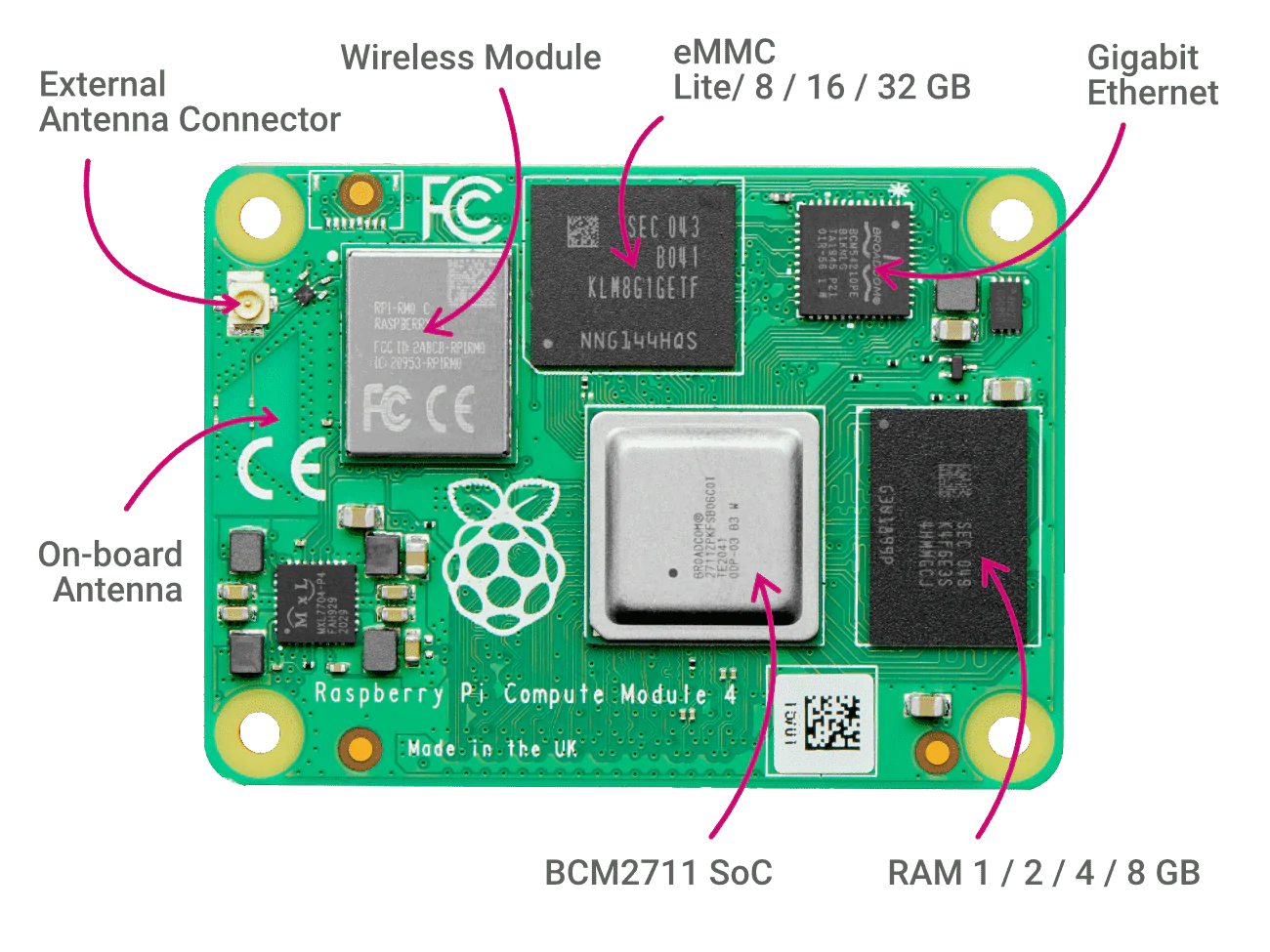 Computer Module 4 also has an optional dual-band 2.4/5.0GHz wireless LAN and Bluetooth 5.0 which comes with modular compliance certification. This allows the board to be designed into end products with significantly reduced compliance testing, improving both cost and time to market. Either the onboard antenna or an external antenna kit can be used.
Specification
Raspberry Pi Zero 2 W Specification
Form Factor
55mm × 40mm
Processor
Broadcom BCM2711 quad-core Cortex-A72 (ARM v8) 64-bit SoC @ 1.5GHz
Memory
1GB, 2GB, 4GB or 8GB LPDDR4 (depending on model) with on-die ECC
Connectivity
Optional wireless LAN, 2.4GHz and 5.0GHz IEEE 802.11b/g/n/ac wireless, Bluetooth 5.0, BLE with onboard and external antenna options
Onboard Gigabit Ethernet PHY supporting IEEE1588
1 × USB 2.0 interface
PCIe Gen 2 x1 interface
28 GPIO signals
SD card interface for SD card or external eMMC (for use only with Compute Module 4 variants without eMMC)
Video
Dual HDMI interface (up to 4Kp60 supported)
2-lane MIPI DSI display interface
2-lane MIPI CSI camera interface
4-lane MIPI DSI display interface
4-lane MIPI CSI camera interface
Multimedia
H.265 (4Kp60 decode); H.264 (1080p60 decode, 1080p30 encode); OpenGL ES 3.0 graphics
Input Power
5V DC 2.5A
Operating Temperature
-20°C to +70°C
About Raspberry Pi

The Raspberry Pi Foundation is a UK-based charity that works to put the power of computing and digital making into the hands of people all over the world. We do this so that more people are able to harness the power of computing and digital technologies for work, to solve problems that matter to them, and to express themselves creatively.
Know more about Raspberry Pi
Logo and Trademark belong to Raspberry Pi Foundation
Opps
Sorry, it looks like some products are not available in selected quantity.