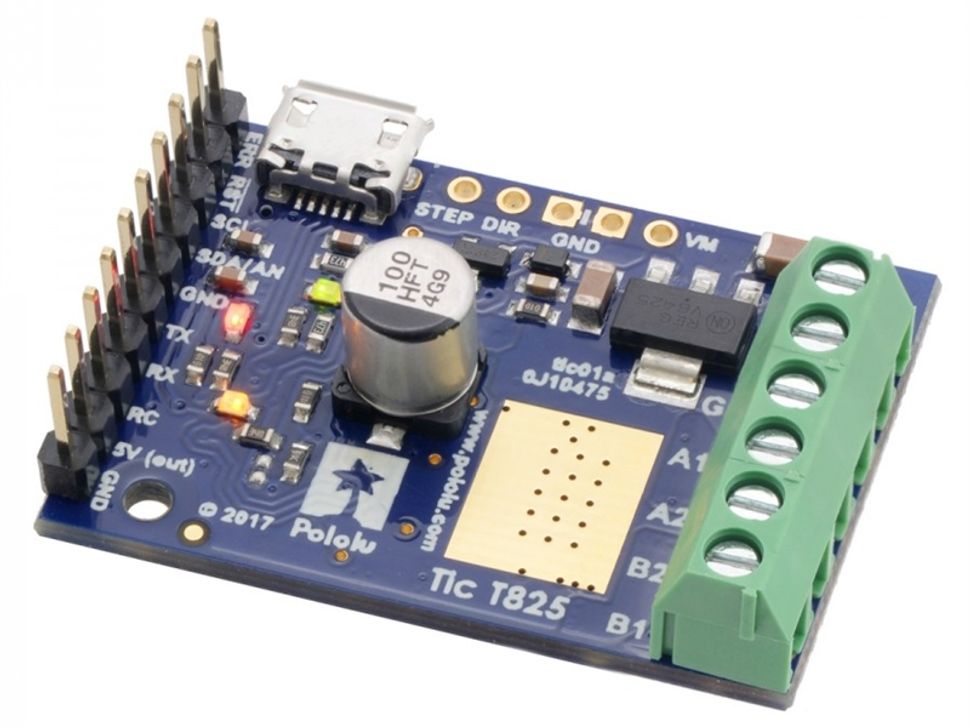 This product is not available in the selected currency.
In Stock
Backordered
Out of Stock
Overview
The Pololu Tic family of stepper motor controllers makes it easy to add basic control of a bipolar stepper motor to a variety of projects. These versatile, general-purpose modules support six different control interfaces USB for direct connection to a computer, TTL serial and IC for use with a microcontroller, RC hobby servo pulses for use in an RC system, analog voltages for use with a potentiometer or analog joystick, and quadrature encoder for use with a rotary encoder dial and offer many settings that can be configured using Pololu's free configuration utility (for Windows, Linux, and macOS). This software simplifies initial setup of the device and allows for in-system testing and monitoring of the controller via USB (a micro-B USB cable is required to connect the Tic to a computer).
SPECIFICATION
T825 Driver Board specification
driver
DRV8825
Control interface
USB; non-inverted TTL serial; I²C; RC servo pulses; analog voltage; quadrature encoder
Minimum operating voltage
8.5 V
Maximum step rate
50000 PPS
ABOUT Actuonix

Actuonix Motion Devices build micro linear actuators and linear servos. Based in Victoria, BC, Canada, they provide innovative and economical micro motion solutions for the growing needs of several markets including robotics, aerospace, automotive, medical and radio control. Actuonix is a leading manufacturer and innovator in the micro motion marketplace. They offer the most affordable, high quality micro linear actuators.
Know more about Actuonix
Logo and Trademark belong to Actuonix
Opps
Sorry, it looks like some products are not available in selected quantity.