This product is not available in the selected currency.
In Stock
Backordered
Out of Stock
Overview
The latest camera "Raspberry Pi High Quality Camera" from Raspberry Pi offers higher resolution (12 megapixels, compared to 8 megapixels), and higher sensitivity (approximately 50% greater area per pixel for improved low-light performance) than the existing Camera Module v2.
It hosts a Sony IMX477R stacked, back-illuminated sensor which is 7.9mm in diagonal and has a 1.55 μm × 1.55 μm of pixel size. The Package also contains an FPC cable for connection to a Raspberry Pi board, a milled aluminium lens mount with integrated 1/4"-20 tripod mount and focus adjustment ring, and a C- to CS-mount adapter with a dust cap. The box also contains one small screw driver to make minor adjustments.
The High Quality Camera provides an alternative to the Camera Module v2 for industrial and consumer applications, including security cameras, which require the highest levels of visual fidelity and/or integration with specialist optics.
The High Quality Camera supports two primary lenses 6mm Wide and 16mm Telephoto and requires a lens to work. These lenses need to be purchased separately.

6mm Wide and 16mm Telephoto lens
The 6mm wide lens with a 3MP (Mega Pixel) resolution gives a wide field of view covering more objects in its FoV, this features makes it a perfect to cover wide areas with a single camera and lens. This makes its a perfect lens for a CCTV application.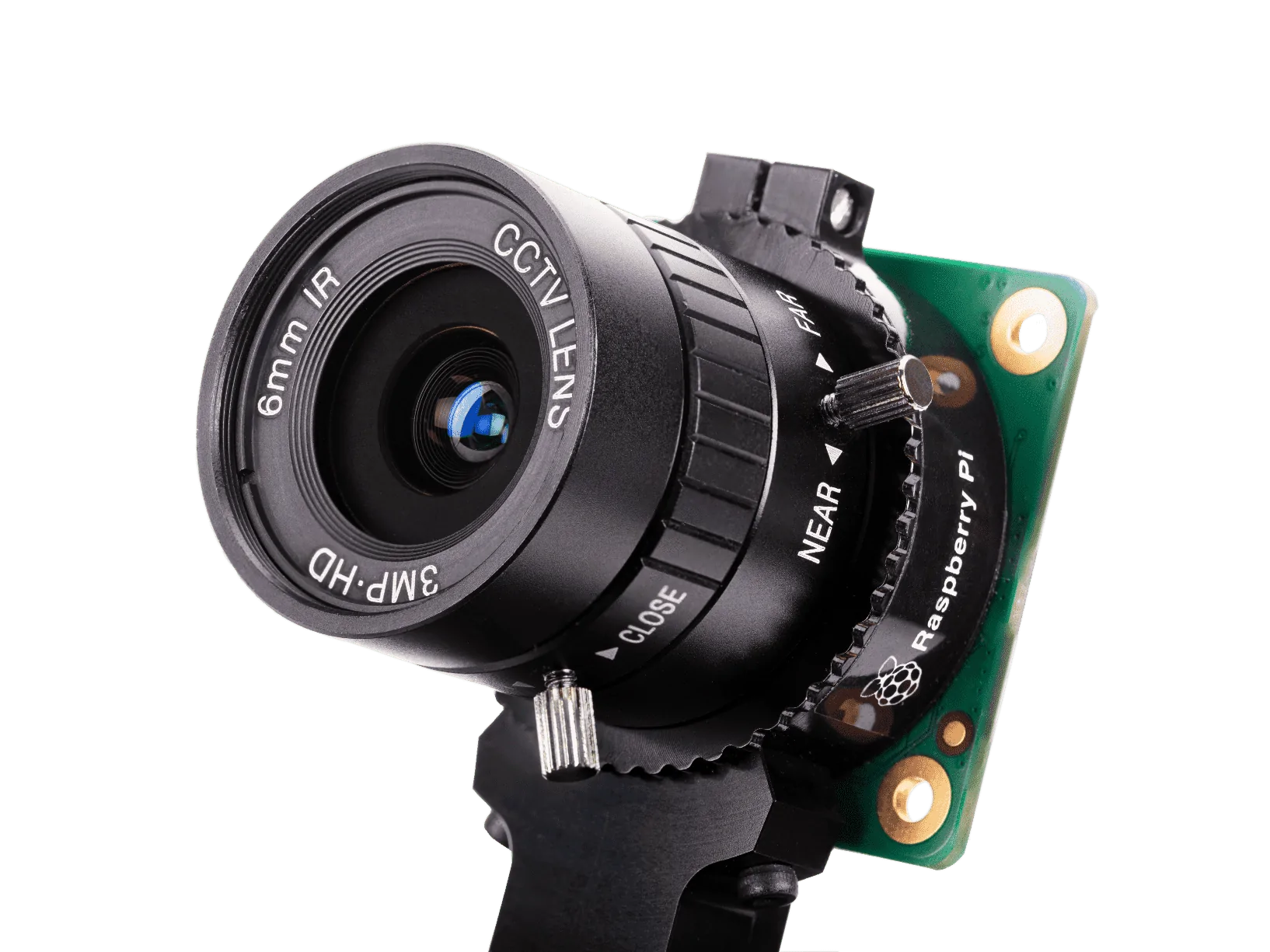 The 16mm Telephoto lens supports upto 10 MP (Mega Pixel) resolution. Being a telephoto lens it provides a high level of zoom over its subject. This feature makes it possible to capture the subject from a distance.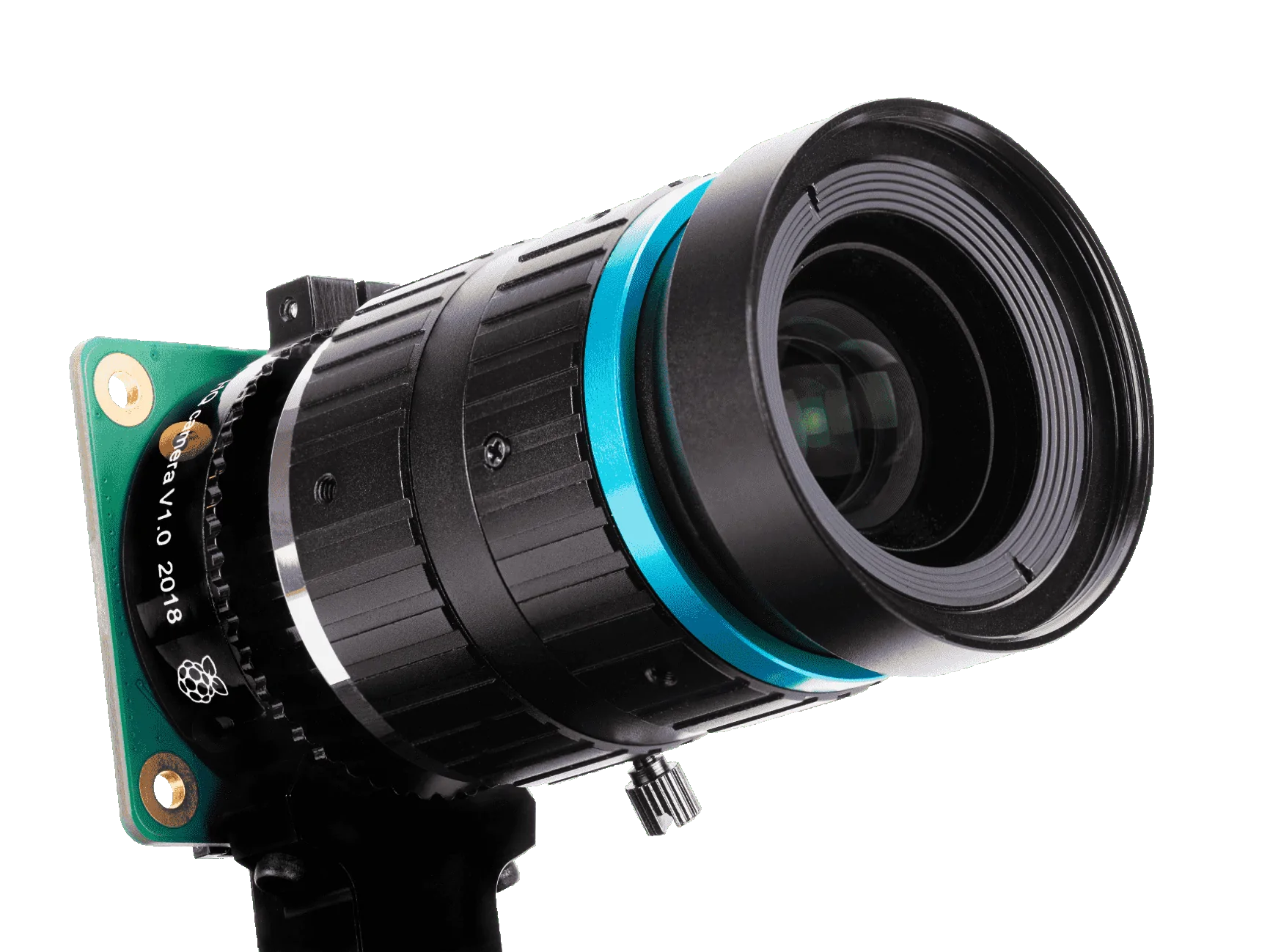 These two lenses directly screw on to the Raspberry Pi High Quality Camera using the C-CS mount adapter which comes with High Quality Camera module. The focus and aperture can be set using the thumb screw on the lens.
The front and the rear lens covers are included in the box.
Specification
Raspberry Pi High Quality Camera Specification
Sensor
Sony IMX477R stacked, back-illuminated sensor
12.3 megapixels
7.9 mm sensor diagonal
1.55 μm × 1.55 μm pixel size
Output
RAW12/10/8, COMP8
Back focus
Adjustable (12.5 mm–22.4 mm)
Lens standards
CS-mount and C-mount (C-CS adapter included)
IR cut filter:
Integrated
Ribbon cable length
200 mm
Tripod mount
1/4"-20
Compliance
FCC 47 CFR Part 15, Subpart B, Class B Digital Device
Electromagnetic Compatibility Directive (EMC) 2014/30/EU
Restriction of Hazardous Substances (RoHS) Directive 2011/65/EU
Lens Specification
HQ Camera Lens Specification
Feature
6mm 3MP
16mm 10MP
Image format
1/2"
1"
Focal length
6mm
16mm
Resolution
3 Megapixel
10 Megapixel
Aperture
F1.2
F1.4 to F16
Mount
CS
C
Field Angle
63°
1" 44.6°× 33.6°
2/3" 30.0°× 23.2°
1/1.8" 24.7°× 18.6°
1/2" 21.8°× 16.4°
Distortion
-
1" (-0.7%)
1/2" (-0.5%)
1/3" (-0.15%)
M.O.D
0.2m
0.2m
Back focal length
7.53mm
17.53mm
Optical length
-
67.53mm
Dimensions
30x34mm
39x50mm
Weight
53g
133.7g
About Raspberry Pi

The Raspberry Pi Foundation is a UK-based charity that works to put the power of computing and digital making into the hands of people all over the world. We do this so that more people are able to harness the power of computing and digital technologies for work, to solve problems that matter to them, and to express themselves creatively.
Know more about Raspberry Pi
Logo and Trademark belong to Raspberry Pi Foundation
Opps
Sorry, it looks like some products are not available in selected quantity.