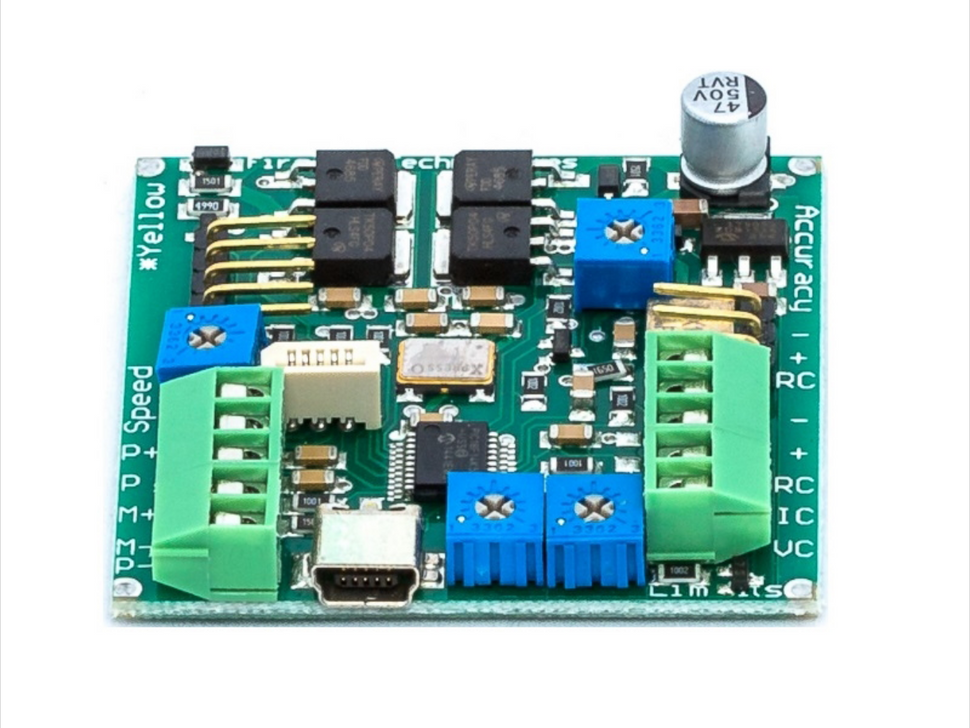 This product is not available in the selected currency.
In Stock
Backordered
Out of Stock
Overview
The Linear Actuator Control Board is a stand-alone, closed-loop control board specifically designed for Actuonix P-series micro linear actuators. The LAC simplifies designs by saving the development time, cost and processor overhead associated with direct motor control. As little as 1 digital or analog output is required for position control. Supported input signals include USB, voltage, current, RC servo and PWM. On-board adjustment of speed, sensitivity and stroke limits are available.
This linear actuator controller can be operated as both an interface board or as a stand alone controller with the addition of an external potentiometer and power supply. Each LAC board controls 1 linear actuator and will require an external power supply rated for the actuator.
The LAC is compatible with all P-series micro linear actuator on this site. A 6 volt or 12 volt power supply is required for operation.
Please note: the LAC board is only compatible with Actuonix P-series actuators. It will not work with our S, I or R actuators. Also note that if using the LAC for a Modified Power Wheels conversion, the LAC will not work with feedback actuators from Progressive Automations.
Whats in the Box?
Whats included in the box?
Linear Actuator Control Board
Downloads
SPECIFICATION
Actuator specification
Manufacturer Part Number
LAC
Control input modes
Digital: USB, RC Servo, 1 kHz PWM Analog: 0–3.3 V, 4–20 mA
Controller
10-bit Dual Sample Rate Quasi PD
Compatible actuators
PQ12 & L12 -P Actuators with position feedback, 6 or 12 volts L12–P Actuators with position feedback, 6 or 12 volts L16, P16 & T16 -P Actuators with position feedback, 6 or 12 volts Larger Actuators with position feedback, 12 volts, 24 volts
Dimensions
50 mm x 50 mm (excluding battery holder)
Power
6–24 VDC, 4 Amps peak current at 10% duty cycle (Note: Supply voltage must match actuator's rated voltage)
Operating environment
–10 to +70°C at 10–80% relative humidity
ABOUT Actuonix
Actuonix Motion Devices build micro linear actuators and linear servos. Based in Victoria, BC, Canada, they provide innovative and economical micro motion solutions for the growing needs of several markets including robotics, aerospace, automotive, medical and radio control. Actuonix is a leading manufacturer and innovator in the micro motion marketplace. They offer the most affordable, high quality micro linear actuators.
Know more about Actuonix
Logo and Trademark belong to Actuonix
Opps
Sorry, it looks like some products are not available in selected quantity.